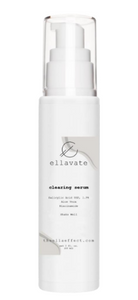 This powerful, acne-fighting formula helps unclog pores and balance oil production to
address existing acne and help prevent new breakouts. Suitable for oily and combination skin.

BENEFITS
• Formulated with medical-grade Salicylic Acid to quickly clear blemishes and help prevent new breakouts.
• Absorbs exesss oils and helps balance oil production.
• Helps clear congested pores and visibly reduce pore size.
• An antioxidant complex helps brighten acne scars and soothe irritated skin.

KEY INGREDIENTS:
SALICYLIC ACID USP
Gently exfoliates skin and removes surface oils. Unclogs pores and opens plugged follicles to promote cell turnover. Oil soluble.
NIACINAMIDE (Vitamin B3) & CITRIC ACID
Gently exfoliate, brighten and help visibly reduce post-acne marks and discoloration for a more even tone. Reduce the look of fine lines and wrinkles; texture is visibly improved and skin is softer.
SOOTHING BOTANICAL COMPLEX:
GREEN TEA EXTRACT Helps inhibit oil production.
LAVENDER OIL Helps detoxify skin.
ALOE VERA Helps promote healing.
CHAMOMILE EXTRACT Calms visible redness.
WITCH HAZEL Botanical that removes excess oil, gently dries acne blemishes and tightens pores for a smoother appearance.